Travel Agency in Tulsa
Learn why we are the best travel agency in Tulsa, Oklahoma.
Contact us to learn about our exclusive discount and travel deals to your favorite destinations including: Greece, Bahamas, Hawaii, Egypt and more! 
Business Hours
Mon-Fri: 9:00am-6:30pm
Sat & Sun: CLOSED
Call Your Tulsa Travel Agent: (918) 215-2012
Email: [email protected]
Tulsa Travel Agents
No matter which season of the year you plan on visiting, there's never a wrong opportunity to see everything that Tulsa, Oklahoma has to offer your group. Whether you're arriving in the fall to go apple picking or in the summer for exciting community events, there's something for anyone to enjoy.
Here are some suggestions for things to do in Tulsa, Oklahoma:
Visit the Philbrook Museum of Art, which features a diverse collection of art from around the world, including works by Monet, Van Gogh, and Rembrandt.
Check out the Tulsa Arts District, which is home to a number of galleries, studios, and theaters.
Take a tour of the Oral Roberts University campus, which is known for its beautiful architecture and landscaping.
Spend a day at the Tulsa Zoo, which is home to over 1,500 animals from around the world.
Explore the Tulsa State Fairgrounds, which hosts a number of events throughout the year, including the Tulsa State Fair.
Go shopping at the Utica Square Shopping Center, which features a variety of upscale retailers and restaurants.
Take a walk or bike ride along the Arkansas River Trail, which offers stunning views of the river and the city skyline.
Learn about the city's history at the Tulsa Historical Society & Museum, which features exhibits on the city's oil boom and the Greenwood District. 
Catch a performance at the Tulsa Performing Arts Center, which hosts a variety of music, theater, and dance events.
Spend an afternoon at Mohawk Park, which is home to a number of recreational facilities, including golf courses, tennis courts, and a nature center.
At Superior Cruise and Travel Tulsa, we remain the affordable choice for all-inclusive vacation packages for more than 18 years. Since then, we've assisted countless individuals, couples, families and even honeymooners for trips virtually anywhere in the world. And when it comes to discounted adventures throughout Tulsa, you won't find a more qualified team of agents than ours.
Why continue spending more on travel when we have customized vacation packages you won't find anywhere else? Let our expert travel agents provide you with the exclusive discounts that you can use for your next getaway!
Vacation Packages From Tulsa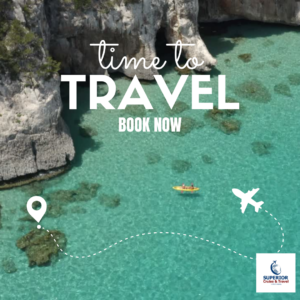 Our staff has remained active within the travel industry for more than 18 years. Since then, we've expanded our travel network and work hard to bring you exclusive discounts unavailable anywhere else.
Today, most online travel websites offer the same reduced rates, or their inventory stays crammed with rooms you don't want. Either they stay too far away from the areas you're focusing on visiting, or it's just not right for you, they don't discount all of your vacation needs.
Instead, our travel staff remains the affordable choice to see the world with all-inclusive vacation packages and lower pricing for more destinations. Best of all, there are no subscription dues or coupon codes to purchase, but just exclusive savings for any trip.
Whether you need to save more on business travel, group rates, honeymoon packages and more, our team remains at the ready for you. Choose Superior Cruise and Travel and book your stress-free vacation today. You can reach us at (800) 992-8064 or by emailing us at [email protected].