What are the best places to visit in Hawaii for families? Kauai and Waikiki Beach are at the top of the list but we'll address other places your family must visit! 
Hawaii is known for its pristine beaches, tropical rainforests, breath-taking scenery, world-class resorts, luxury hotels, restaurants, cafes, and attractions, making it a vacation hotspot. 
What is the Best Places to Visit in Hawaii for Families?
With so many places to visit, it begs the question, what are the best places to see in Hawaii when you are traveling with your family? This article will answer this question and more! 
Are you impatient and simply want to discuss the details of your Hawaii vacation? Give Superior Cruise & Travel, a KROZ Company, a call now at (800) 992-8064. 

Haleakala Crater 
Haleakala Crater provides more than 35 miles of trails to walk/hike and explore native flora and fauna. It is one of the most picturesque and Instagrammable places in Hawaii. The word "Haleakala" means "House of the Sun" because it has long, sunny days with gorgeous views and magical sunrises and sunsets that create jaw-dropping experiences. 
Waimea Canyon State Park 
The Waimea Canyon, also known as the 'Grand Canyon of the Pacific' is home to gorgeous vistas, scenic hikes, peaceful streams and stunning waterfalls. You'll be able to disconnect from the world and unwind with Mother Nature. 
Weather conditions at the Waimea Canyon are relatively milder than other places in Hawaii, especially when you travel up about 4,000 feet. You will explore pine groves, Koa trees, Eucalyptus trees, and the once-in-a-lifetime view from the mountaintop. It is a perfect place for singles, couples and families to enjoy some solitude. 
Kauai
There are plenty of places to see and things to do in Kauai. You can enjoy the adventurous zipline through the jungle, go kayaking on one of the rivers, or spend a relaxing day at the beach. 
In addition, the Garden Isle is the most popular tourist destination in Kauai, offering various adventure activities. If you seek a more peaceful and quiet place to relax, the beaches may be just what the doctor ordered. 
Additionally, we recommend exploring the local culture, historical landmarks, beautiful museums, farmer's market, etc. 
Waikiki Beach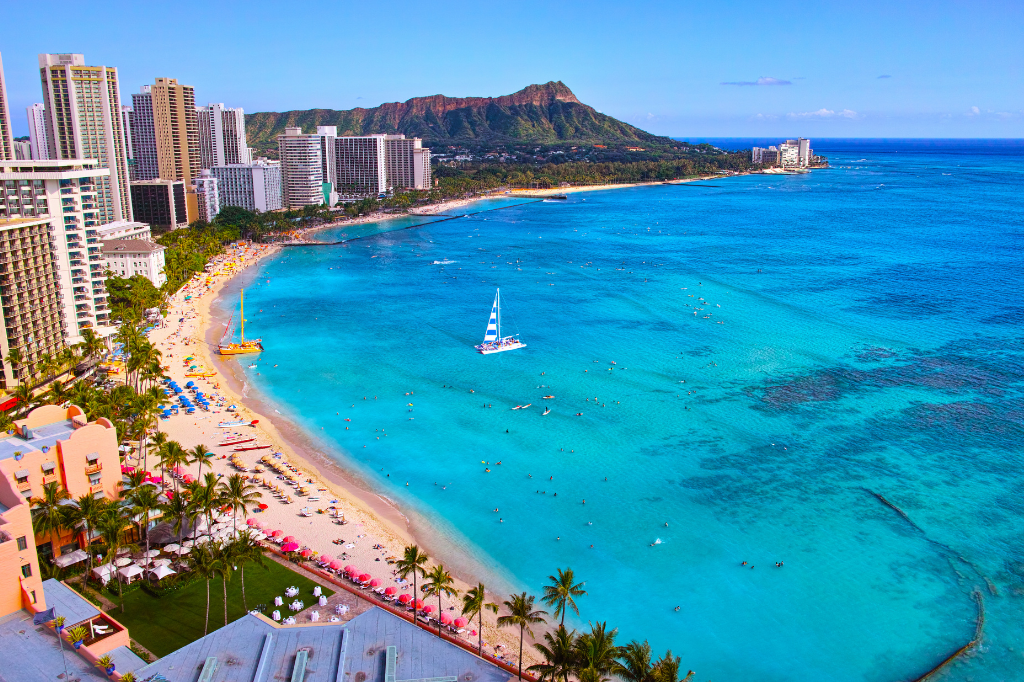 Waikiki Beach is a natural paradise and a scenic getaway for vacationers in Hawaii. Some of the most popular activities at Waikiki Beach include visiting the Aquarium, Kapiolani Park, Honolulu Zoo and the Pearl Harbor Tour. 
You can also take helicopter tours to soak in the scenic views from above. Other activities that you can do at Waikiki Beach are hiking the Diamond Head Crater, go shopping, visiting the Atlantis Submarine Adventure and taking a guided whale watching tour.
North Shore Beach 
North Shore Beach is another beautiful tourist destination in Hawaii, boasting crystal-clear waters and amazing surf spots. North Shore Beach is a must-to-go place in Hawaii if you want to snorkel, surf and have a fun time on the beach. 
Kapalua Resort 
Depending on your travel budget, staying at the Kapalua Resort can be an experience in itself . The luxury resort captures Maui's vibrance and glamor with world-class amenities, including fine dining, five-star spas and two championship golf courses. 
Paia
If you are staying on Maui, you and your family will love Paia because it offers plenty of surf shops, art galleries, beautiful boutiques, coffee shops, restaurants, yoga studios, and vegan food eateries, creating one-of-a-kind experiences. Although Paisa is a small town, its charm, pleasant weather, and vibrant nightlife drive hundreds of thousands of tourists every year.  
Give Yourself a Trip of a Lifetime
Now that you understand the best places to visit in Hawaii as a family, it's time to start planning your getaway. If you are overwhelmed by the many options or if you simply want to put together a luxurious vacation together, give our team a call! Our Chief Travel & Lifestyle Office has visited Hawaii on numerous occasions and can personally put together a custom travel experience for you. Visit us to learn more at www.superiorcruiseandtravel.com. 
For current travel restrictions and requirements, please visit Go Hawaii.