Vacations are fun and exciting! Exploring new places, eating exquisite food, experiencing the thrill of new adventures and so much more. Most travelers, they are escaping the mundane of everyday life. 
But, what happens when you're back to reality and the post vacation blues kick in? Most of us have experienced this one time or another! We are back at our cubicles or tackling piles of laundry. The grocery shopping needs to get done. Instacart to the rescue?  Did we miss the landscaper because the grass is overgrown? In this article, we'll explore ways to avoid the vacation blues.
What Does Our Audience Say?
As a fun experiment, we wanted to hear from our customers and social media followers about what they dread most about returning from vacation. 
Below is a graphic of a recent poll we conducted. The MAJORITY of participants chose 'Returning to Work/School' as the one thing they dreaded most while 'Unpacking' was a far second.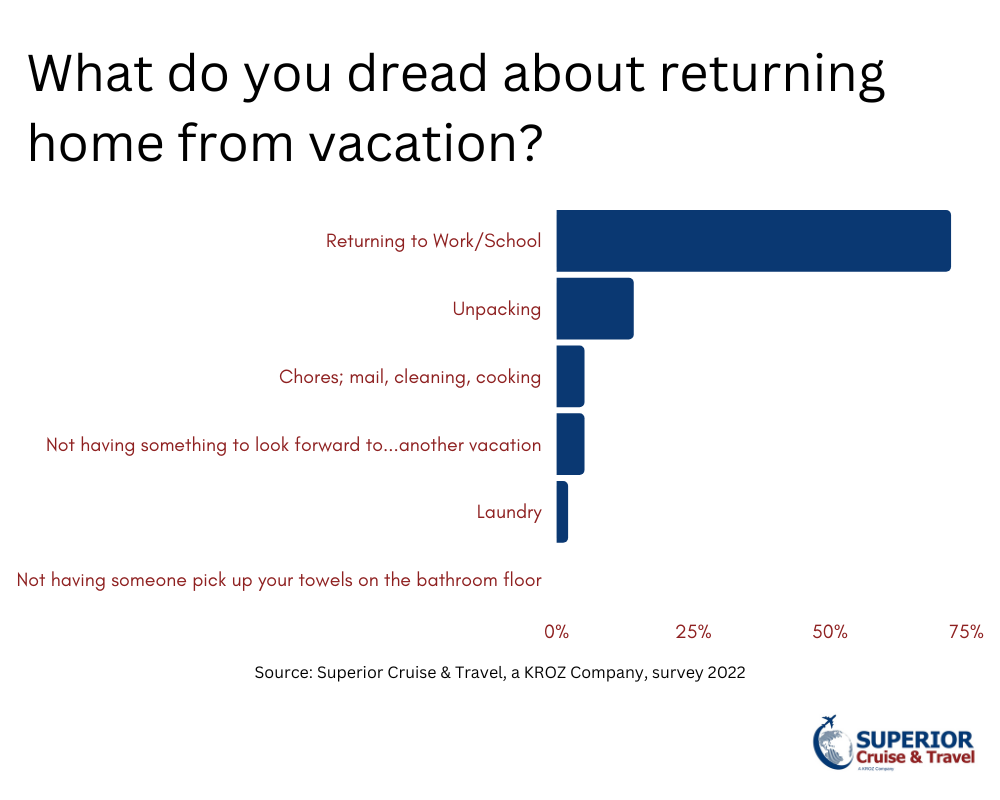 In addition to the entries, we received some colorful commentary! Here is what some of our audience had to say…
"Actually, I don't usually dread coming home, I appreciate my adventure away and look forward to my beautiful house, my healthy routine, and my comfort zone!"
~ Lynn G.
"My mom complaining about the fact that we are coming home from vacation and then when we get home the next day her being like, "Okay, let's go sit on the beach! Oh wait, we can't because we are back home."
~ Hailey C.
"Sooo my last trips suitcase is still not unpacked January 2020 🤣🤣 I only take out what needed to be washed because I was traveling 2x a month for work."
~ Molly M.
Do THIS to Avoid The Post-Vacation Blues!
Now that we've confirmed that almost no one enjoys returning to work and/or school.  How do we combat our dejection after we return from vacation? How can we be the best person possible for everyone around us? 
Here is some sound advice from our travel experts! 
The overwhelming #1 sore spot is returning back to WORK/SCHOOL/REAL LIFE. Let our team at Superior Cruise & Travel, a KROZ Company, plan your trip with a buffer day for "recovery." Who wants to face loads of laundry, tons of mail and pack lunches as you return to "real life."? Downtime is grossly underrated.

Send yourself a postcard from your trip. Yes, we are talking about a physical card with a handwritten message.  Yes, that's pen to paper or in this case pen to post card, about the highlight of your trip. Mail it to yourself so you have a pleasant reflection of your trip while going through piles of mail and a digitial photo dump  upon your return.

UNPACKING/LAUNDRY: Close contender coming in at #2. Send your laundry out a day or two before your trip ends. Why??? Now you are taking home a clean suitcase. Simply put them away and skip the dreaded post vacation laundry piles.

Book your next vacation BEFORE your current vacation begins. Call, text or email your travel agent for your next adventure. You will never lose the anticipation of vacation. After all, the anticipation is half the fun. You will never come home without a trip planned for the future. Some of our clients have two or three trips on the calendar before they depart for their current trip! 
Our travel agents are experts and will help you build your next getaway and subsequent trips. No more Post-Vacation Blues if you follow our direction. We have a wide variety of getaways and vacation packages including cruises, luxury resorts, private yacht or charters, amusement parks and global sporting events. Give us a call at (800) 992-8064 or send an email [email protected].