If you're planning a trip, whether for business or pleasure, you're likely considering the best way to get to your destination. 
One option you'll come across when booking flights is the choice between direct and non-stop flights. 
While these terms are often used interchangeably, they actually refer to two different types of flights, each with its own advantages and disadvantages.
Direct flights
, for instance, refer to flights that fly from your departure city to your destination city, but may have one or more stops along the way. These stops may be for refueling or to pick up additional passengers, but the flight number remains the same throughout the journey. You'll often stay on the same plane, but you may have to wait on the tarmac while the plane is refueled or while passengers board or disembark.
Non-stop flights
, on the other hand, fly directly from your departure city to your destination city without any stops along the way. This is the fastest and most efficient way to get to your final destination.
While both options have their pros and cons, understanding the differences between them can help you make an informed decision when booking your next flight.
Deciding Between Direct and Non-Stop Flights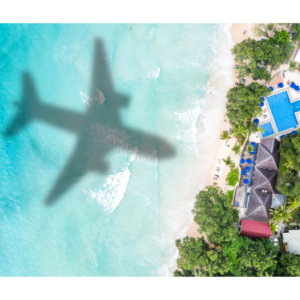 It's important to note that all non-stop flights are direct flights, but not all direct flights are non-stop. If you see a flight listed as "direct," be sure to check if it makes any stops along the way.
When deciding between a direct or non-stop flight, consider your travel needs and budget. 
If time is of the essence and you can afford it, a non-stop flight may be the best option. 
On the other hand, if you're on a tight budget and don't mind a longer travel time, a direct flight may be a more affordable choice.
Additionally, some airlines may use the terms "direct" and "non-stop" interchangeably, so be sure to read the flight details carefully before booking or book through your Superior Travel Agent. By understanding the differences between these two types of flights, you can make an informed decision and choose the option that works best for you.
Still not sure? Working with a Superior Cruise & Travel, a KROZ Company, travel agent can provide you with a clearer picture of your trip. 
Advantages of Direct Non-Stop Flights
Time-Saving
Direct non-stop flights save you a considerable amount of time. With no layovers or stops, you can get to your destination faster. You don't have to worry about missing connecting flights, waiting for long hours in the airport, or dealing with the hassle of changing planes. This means you can spend more time at your destination or get back home sooner.
Comfort and Convenience
Direct non-stop flights typically offer more comfort and convenience. You can relax and enjoy the flight without worrying about getting off the plane or changing seats. You can stretch your legs, sleep, or watch a movie without interruption. 
Additionally, you don't have to worry about carrying your luggage around or transferring it from one plane to another.
Reduced Stress and Hassles
Direct non-stop flights reduce stress and hassles. You don't have to worry about the stress of navigating unfamiliar airports, dealing with customs and immigration, or rushing to catch your connecting flight. 
You can simply sit back and enjoy the flight, knowing that you will arrive at your destination without any delays or mishaps. 
Disadvantages of Direct Non-Stop Flights
Limited Destination Options
Non-stop flights that go direct are a great option for travelers who want to reach their destination quickly and efficiently. 
However, one major disadvantage of direct non-stop flights is the limited destination options available. 
Not all airlines offer direct non-stop flights to every destination, which means that you may have to choose a connecting flight or a different airline altogether. This can add extra time and cost to your travel plans, which can be frustrating for travelers who are on a tight schedule.
Higher Ticket Costs
These flights are often more expensive than connecting ones, as they offer the convenience of a shorter travel time. 
If you are on a budget, you may find that connecting flights are a more affordable option. 
However, it is important to weigh the cost savings against the additional time and inconvenience that comes with connecting flights. 
How to Book Direct Non-Stop Flights
A reputable travel agency can help you plan and book your entire getaway based on your specific needs/wants and budget. As part of our concierge service, we'll work directly with the airlines to find the best possible flight options based on the length of your stay. 
If your group has more flexibility (i.e. – flying out on a Wednesday rather than Tuesday), the options could expand for direct non-stop flights to your destination.  
Let Us Know Your Travel Plans!
We are one call away from helping you plan the trip of a lifetime! We can help you consolidate your travel planning which includes providing options for airline travel. 
Booking direct non-stop flights with a travel agency can be a convenient and efficient way to plan your travel. 
By working directly together, we can take your travel dreams and start working them into reality. We've partnered with hundreds of travel companies to provide our clients with the best luxury vacation. 
Let's plan your trip TODAY! Give us a call at 800.992.8064 or email us at
[email protected]
.