Hoping to find a romantic restaurant in London for an anniversary or for that special first date? Whether you are interested in a place with candle-lit tables or a restaurant that offers spectacular views of the Old Smoke, London has got you covered. Here is our list of 5 most romantic restaurants in London.
Clos Maggiore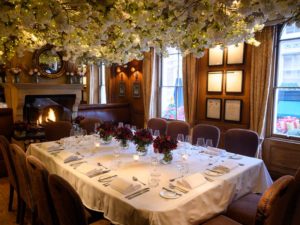 A modern French restaurant located in the heart of Covent Garden, Clos Maggiore is famous for its romantic appeal and unparalleled warmth. Fairy lights and a nice fireplace create a unique interior and a perfect setting for a romantic dinner. On the seasonal tasting menu, you will find mouthwatering dishes like Hand Picked Dorset Crab Mayonnaise and Pan Roasted Organic Irish Sea Trout. In case you prefer vegetarian food, make sure to try Crispy Parmesan Polenta & Saint Marcellin Cheese or Hand Rolled Fresh Papardella with Grated Fresh Truffle.
Chef Marcellin Marc's is in love with the Provencal cuisine, so it's no wonder that a la carte signature dishes include Roasted Ibérico Pork Loin & Cheek and Slow Roasted Shoulder of Milk Fed Pyrenees Lamb. Clos Maggiore also has an impressive wine collection with over 2,500 selections from 18 different countries.
Address: 33 King Street, Covent Garden, London
Website: www.closmaggiore.com
J Sheekey Atlantic Bar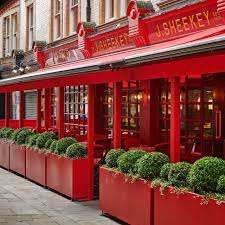 For an ultimate dining experience for two, head out to the iconic J Sheekey Atlantic Bar on St Martin's Court. This two-unit restaurant is famous for its tasty seafood menu and impeccable service. Share a Smoked Salmon or Stone Bass & Salmon Ceviche starter with your partner and try some of the most popular dishes from the a la carte menu including Shrimp & Scallop Burger, Lobster Grilled or Thermidor, and Roasted Mixed Shellfish. Vegetarians will fall in love with the Truffled Jerusalem Artichoke Soup and Butternut Squash Risotto. Besides an intimate atmosphere, J Sheekey Atlantic Bar also serves delicious desserts like Vanilla Crème Brulee and Chocolate Fondant.
Address: 28-32 St Martins' Court, London
Website:  www.j-sheekey.co.uk
Kitty Fisher's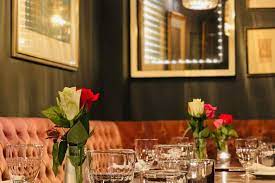 Located in the Mayfair neighborhood, Kitty Fisher's is one of the most romantic restaurants in London. Their intimate dining room is fitted with candle-lit tables and cozy leather boots. Make sure to try some of their most popular dishes including Iberico Pork with Hispi Cabbage, Spring Onion & Apple and Rib Eye of Old Galician Beef with Crispy Potatoes. In case you wish to share a dessert with that special someone, we recommend the Chocolate Ganache, Ginger Ice Cream, and Pecan & Pumpkin.They also have an extensive cocktail list with favorites like Bad Kitty, Dublin Minute, and Papa Doble
Address: 10 Shepherd Market, London
Website: www.kittyfishers.com
 Aqua Shard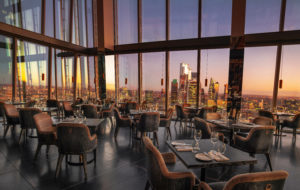 For a jaw-dropping experience, go on that first date to the popular Aqua Shard restaurant in London. The panoramic views of the London are amazing and the food is excellent. A nice selection of starters including Grilled Octopus and Cured Monkfish is the perfect way to start the evening. Roasted Yorkshire Wood Pigeon, Hereford Beef, and Blue Bark Pumpkin and Barley are some of the most popular dishes on the a la carte menu. Keep in mind that the dress code at Aqua Shard is smart casual and reservations for window tables are not available.
Address: 31 Saint Thomas Street, London
Website: www.aquashard.co.uk
Sushisamba London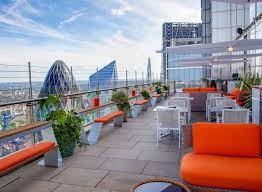 Sushisamba is situated on the 38th and 39th floors of the famous Heron Tower in Bishopsgate and has the highest outdoor dining terrace in Europe. Take one of the two glass elevators to the 39th floor and enjoy the panoramic views of London while having dinner with your partner. The menu consists of authentic Japanese dishes like Toro Tuna Belly, Yellowtail Crispy Taquitos, Sea Bass Tempura, and California Maki. For dessert, make sure to try their delicious Chocolate Banana Cake and Assorted Mochi.
Address: Heron Tower 110 Bishopsgate, London
Website: www.sushisamba.com
Conclusion
London is a city that offers a diverse range of dining options, from trendy gastropubs to Michelin-starred restaurants.
However, when it comes to romance, there are certain restaurants that stand out from the rest. Whether you're looking for a cozy candlelit dinner or a stunning rooftop view, there is a romantic restaurant in London to suit your tastes. These restaurants offer not only delicious cuisine but also a romantic atmosphere that will make your evening unforgettable.
So, if you're planning a special night out with your significant other, be sure to consider one of these most romantic restaurants in London.