Riviera Maya is a popular and relaxing tourist destination on Mexico's northeastern Yucatán Peninsula. From Puerto Morelos to Tulum, Playa del Carmen nestled between them. These three destinations have made Riviera Maya a desired tourist destination less than a hour from Canu and it's international airport. 
The Riviera Maya offers multiple luxury resorts on and near white sand beaches with crystal-clear water. Indulge in pampering spas or take in round of golf at any one of the world-class golf courses. Enjoy snorkeling, SCUBA diving and so much more! 
If you are considering a getaway to Riviera Maya, most convenient to the east coast and midwest, contact our experienced travel agents. You will be asured this is an excellent vacation destination for any budget! 
When planning a vacation, consider a complete package including flights, hotel, excursions, etc. Our expert team of travel agents at Superior Cruise & Travel, a KROZ Company, will offer you the most value for your vacation dollar! Call us at (800) 992-8064 or email us at [email protected]. 
Natural Beauty 
The Riviera Maya encompasses 80 miles of shoreline and features flooded cave passages, including the most extended underwater cave systems: Ox Bel Ha and Sac Actun. 
Mesoamerican Reef, also called the Great Mayan Reef, is the Riviera's very own exotic barrier reef. People travel from all over the globe just to get a glimpse and soak in the Mayan sun.
The turquoise waters host numerous species of corals, sponges, mollusks and fish. It's truly a magnificent place to explore the natural beauty and unique creatures the world has to offer! 
The hikers and history lovers will enjoy the Mayan Ruins and Archeological sites. The most popular is Chichen Itza followed by the walled city of Tulum. 
Outdoor Adventure Activities 
The Riviera Maya is home to numerous eco-parks with outdoor activities for people of all ages. For example, you can enjoy a bicycle ride in the middle of the Mayan Jungle, feel adventurous on the zip lines or visit the canopy bridges to explore flora and fauna diversity.
Xcaret, Mexico's greatest natural water park, is a destination within itself. It is not to be missed for our most adventurous families and incentive groups alike. Eight parks, five tour and even their own ferry for a roundtrip excursion to Isla Mujeres. 
Riviera Maya has many amazing areas for SCUBA diving and snorkeling to swim among 500 different species of fish, dolphins and turtles. It is a snorkeler's dream! 
Luxury Hotel and All-Inclusive Resorts
From lovely boutique hotels to the most luxurious resorts like the Mayakoba Banyan Tree or Grand Velas, there are few destinations that can compare to the Riviera Maya. 
Many of the resorts feature relaxing spa services as well as yoga and meditation retreat facilities.
Not a seasoned yogi? Enjoy unwinding by the ocean or pool with a margarita in hand!  
Scenic and White-sand Beaches 
The beautiful powdery white sand and turquoise water is a big reason why people adore this destination. The beaches in Riviera Maya have crystal-clear water, allowing people to enjoy swimming, snorkeling, and other water activities. 
Seeing the unforgettable sunrises and sunsets along Puerto Morelos, Puerto Aventuras, Tulum, Akumal Beach or Mamitas Beach in Playa del Carmen, can captivate vacationers. 
Is Riviera Maya Safe?
Is it safe to travel to Riviera Maya? Although there's common concern, the short answer is yes! While some areas of the country are considered very dangerous, this generally isn't the case for areas such as the Riviera Maya. 
In general, Cancun, Tulum and Playa Del Carmen are safe places to visit. As you should in any destination, avoid walking the local streets at night by yourself. Do not venture off into less populated areas without a professional guide or as part of an organized tour. 
As a client, one of our talented travel agents will nput together an itinerary for you and your group. We'll help map out where to go and places you will want to avoid.  
Book Your Getaway to the Riviera Maya!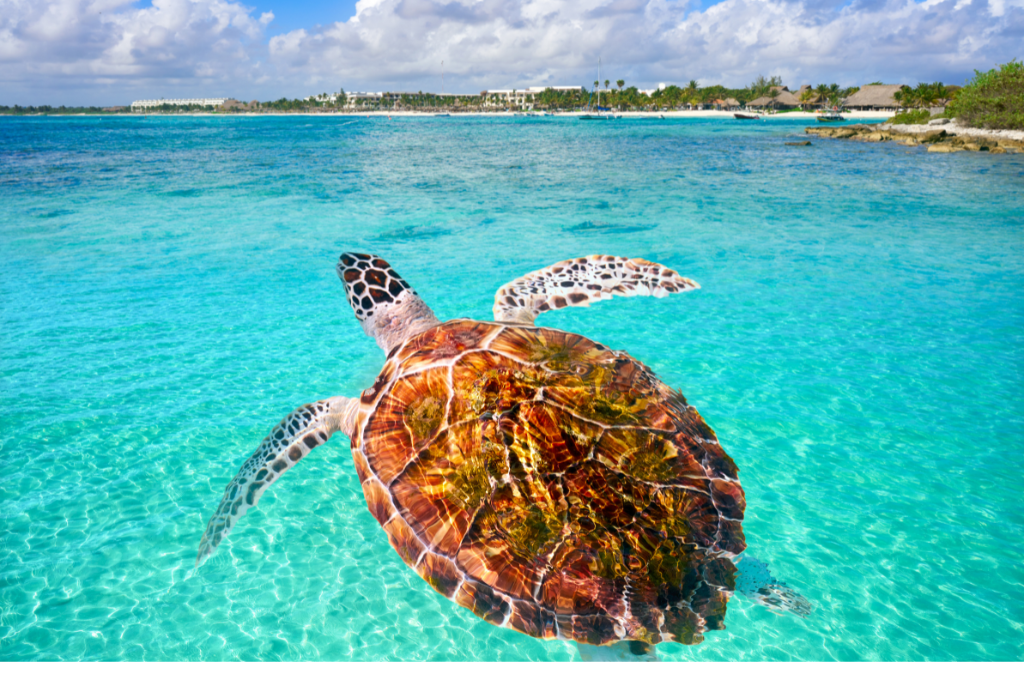 Not only is the Riviera Maya home to the most beautiful beaches and resorts, it also boasts Maya-inspired theme parks, marinas, golf courses, exquisite dining, animal sanctuaries and shopping centers. 
Our travel agents at Superior Cruise & Travel, a KROZ Company, can tailor a vacation package unique to you. Our travel packages are often bundled to give you the most in savings. Our access to the most luxurious all-inclusive resorts, fine dining restaurants, spas, and activies will leaving you wanting more! 
Call us today at (800) 992-8064 to speak to a professional travel agent about your Riviera Maya getaway!