The fall season in many U.S. cities brings crisp weather and scenery out of a travel magazine. Traveling in the fall is a welcomed change from the summer cookouts and mental preparation before the cold winter months. 
Are you looking for the best fall destinations in the United States? If so, you are in the right place. The U.S has hundreds of destinations that you can choose from and travel to with your family and friends but here are our top picks:
Asheville, North Carolina

Asheville, also known as the "The Land of the Sky" or "The Paris of the South", is an incredible U.S. fall destination. Although it is a small town, it offers many things to see and do. You can go shopping at many local shops, enjoy a seasonal coffee in the downtown cafes, bike the Blue Ridge or tour the Biltmore Estate. 
Are you a beer lover? Asheville, North Carolina is the home to more than 20 breweries! Enjoy the live music with your favorite fall beer and warm pretzel. 
Napa Valley, California

Napa Valley, California, is one of the best fall destinations in the U.S for a reason. It is considered one of the top leaf-peeping destinations. You can easily travel to Napa Valley from the San Francisco Bay area and enjoy the color of fall on the trees and vines. The cool and crisp weather in Napa Valley during the fall months makes wine tasting that much more enjoyable. 
You will find many vineyards perched high up on hills allowing you to enjoy picturesque sceneries and panoramic views of an orange patchwork quilt in the vineyard. In addition, strolling the downtown streets of Yountville is a great way to find Michelin-starred restaurants, world-class art and fine-wine tastings. 
Napa Valley is a beautiful and scenic destination that provides the perfect mix of culture, art, food and wine. 
Burlington, Vermont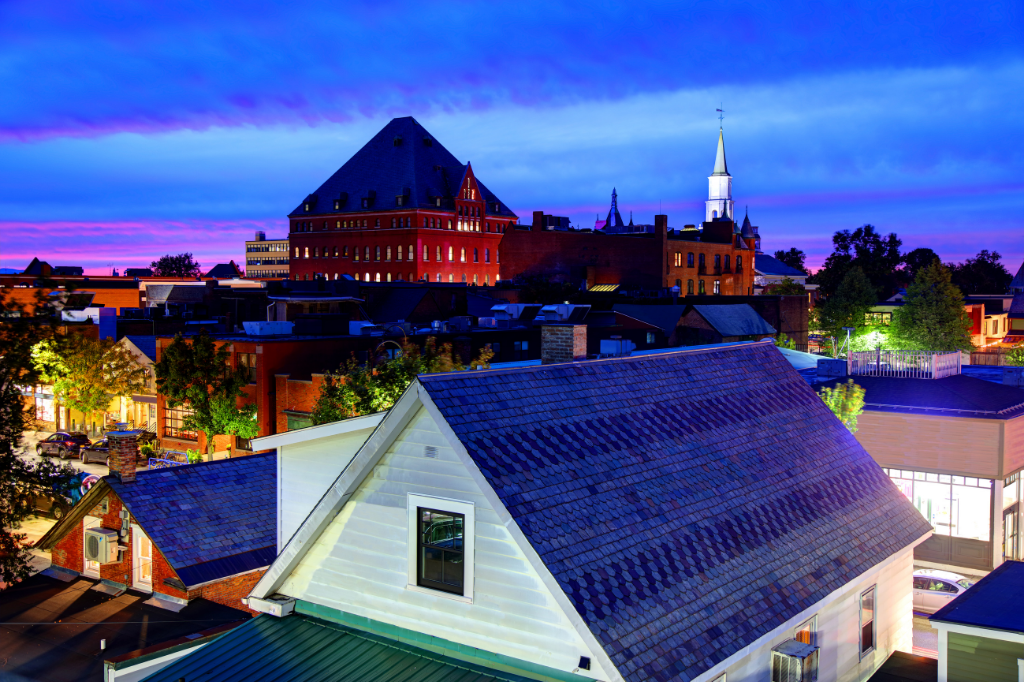 Burlington, Vermont is one of the most scenic destinations in New England. Relish in the picturesque and breathtaking views of orange, red and yellow leaves. Vermont as a state is home to medium-density forests with hundreds of tree species including birch, maple and beech trees. 
The downtown scene of Burlington is lively with plenty of things to do and places to eat and drink. Or, you can spend hours picking your own apples or pumpkins while sipping your favorite local brew. 
While in Burlington, let's not forget to visit Lake Champlain for its beautiful scenery, including the reflection of warm and colorful trees. 
New York City, New York

For our city-lovers, there's no other city as lively as New York City. While in NYC, you can walk through the beautiful Central Park and soak in the colorful foliage. If you're visiting in October, we recommend picking up some fresh pumpkins and participating in the local fall festivals. Undoubtedly, the vibrant environment of the festival will bring a smile to your face. 
There's so many things to do in NYC that you will need to accept that you can't do them all. Enjoy the beautiful skyline, visit Time Square, stroll through Central Park, eat at five-star restaurants, catch a Yankees game and explore many other things while breathing in fresh, dry, and crisp air. 
More U.S. Destinations to Visit in the Fall
Seattle, Washington

Chicago, Illinois

Jackson Hole, Wyoming

Berkshires, Massachusetts

Boston, Massachusetts

Flagstaff, Arizona

Telluride, Colorado

Chattanooga, Tennessee

Joshua Tree, California
How to Make the Most Out of Your Fall Adventure
Whether you're planning a road trip, a city break, or a nature retreat, there are many tips to help you make the most of your autumn adventure. Here are some tips for traveling in the fall.
Pack for the Weather
Fall weather can be unpredictable, with cool mornings and warm afternoons. You should pack layers, including sweaters, jackets, and scarves, as well as comfortable shoes for walking and hiking. You should also bring rain gear, such as an umbrella or rain jacket, in case of wet weather.
Plan Ahead
Planning ahead is key to making the most of your fall trip. You should research your destination and its seasonal activities and events, such as apple picking, pumpkin patches, or fall festivals. You should also book your accommodations and activities in advance to avoid any last-minute stress or disappointment.
Explore Nature
Fall is a beautiful time to explore nature, with changing leaves and cooler weather. You can plan a hike, a bike ride, or a scenic drive to take in the fall foliage. You can also visit national parks or nature reserves to see wildlife and natural wonders.
Treat Yourself to Seasonal Treats
Fall is also a time for seasonal treats, such as pumpkin spice lattes, apple cider, and caramel apples. You can explore local bakeries, cafes, and farmers markets to try seasonal treats and flavors. You can also plan a visit to a winery or brewery to sample seasonal drinks.
Enjoy Local Cultural Events
Fall is a time for cultural events and festivals, such as harvest festivals, Oktoberfest, and Halloween celebrations. You can plan your trip around a specific event or simply explore the local culture and traditions. You can also visit museums, galleries, and historical sites to learn more about the local history and art.
Travel Off-Season
Fall is a popular time to travel, but it can also be a great time to find deals and discounts. You can travel off-season to avoid the crowds and save money on accommodations and activities. You can also consider visiting less popular destinations or traveling during the weekdays instead of weekends.
Will You Be Traveling This Fall?
The fall season in the U.S. welcomes change. Changing of the temperature, color of the leaves and lifestyle. Kids are back at school and many adults go back to working 40-hour workweeks so a weekend trip can be what the family needs. Additionally, crowds begin to dissipate leaving you more flexibility to book your trip. Plan your fall vacation today and enjoy the colored leaves, coffee on a crisp morning, and your favorite pumpkin beverage.